Instrument: 10-key flute, Madagascar Rosewood? with Silver rings and keys - original case B-foot
Maker: H.F. Meyer, Hannover, 1867
Pitch: A=432-442
Sounding Length:
Total Length:
Embouchure size: 
Restorer: 
Notes: This is a very special flute, not only in that it is a beautiful playing instrument by an important maker, but it has a deluxe presentation and all the small parts are there as they would have been originally. It even includes the original bill of sale plus 2 other interesting documents. Special features include the ivory tenon caps (even mentioned in the bill), ivory grease container, original swab stick, gold plaque and cork indicator, Silver keys, and original case in near mint condition. Meyer flutes are generally under valued (IMHO), probably because people confuse them with nach Meyer flutes. This is very refined instruments to play and it feels like a very sensitive flute, where nach Meyer flutes are often brutish. This is an early model before he came out with his most famous design. The embouchure has an excellent shape and is modestly sized adding to the refined quality of the flute. The maker's mark on the foot seems to have the number "1" on it. As Meyer had been making flutes for many years by 1867, perhaps this is the first of this particular model?
Keys - the usual 8-keys plus low b and RH b-flat
Case - the case, with original key is in unusually good condition - both interior and exterior.
Provenance and documents: The included documents are very interesting. They include the original bill of sale: "Mr. A. Dogyell(?) to Walter Crosby (for?) Flute Joint Ivory — $12.00 Boston, Oct 15th 1867. Received payment (signed) Walter Crosby." Crosby was a well-known deal and instrument maker in Boston and I recently acquired an interesting flute by him. Link to Crosby
The second note is some sort of inventory listing of flutes dated 1907. I'm not sure it relates directly to this flute. It is signed E.F. Ester? who I have yet to investigate.
The third document is a tiny piece of paper in the little compartment usually used for extra pads. It says "Oiled Dec 2nd 1868." Clearly Mr. Dogyell was an organized person and kept track of when he oilded his flute. I wonder if he ever did it again…
Demonstration recordings: Broderies / Verzierungen by Louis Drouet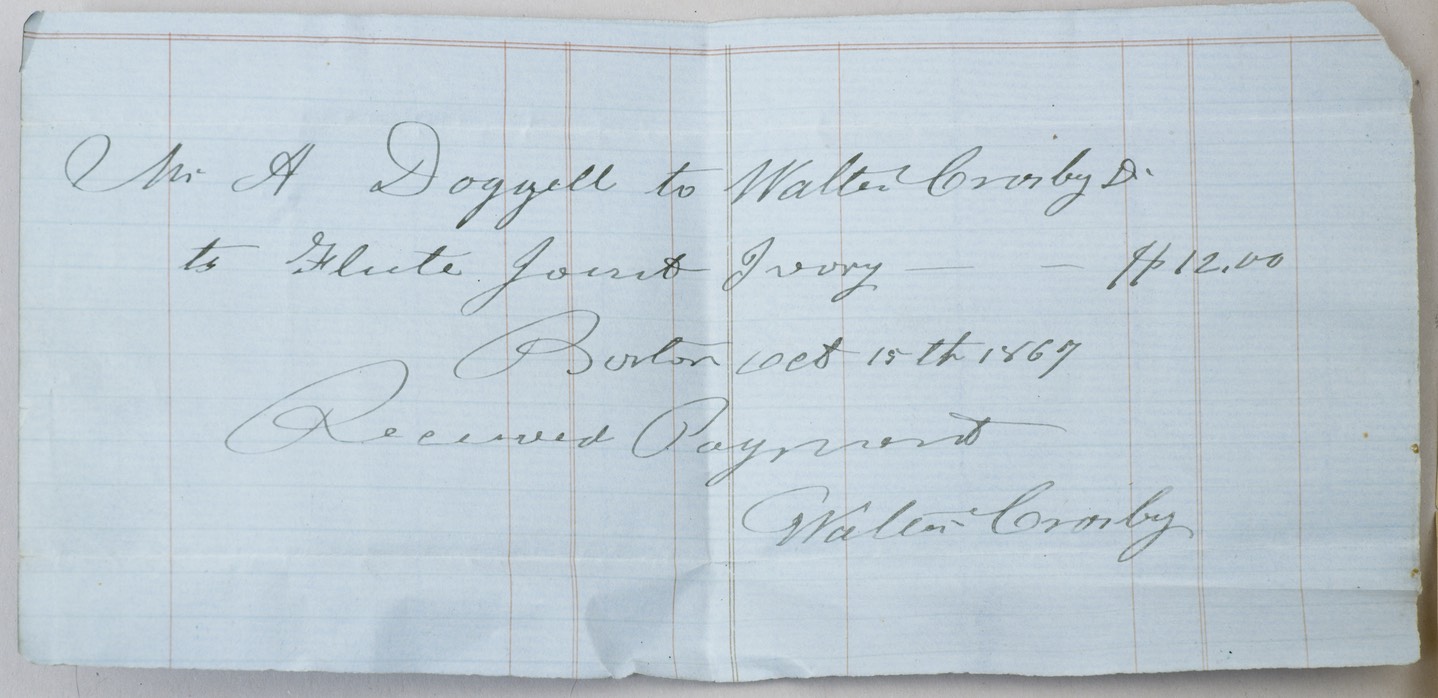 I believe this says "oiled Dec 2nd, 1868"